Nyhedsbrev - Brændpunkt

Agathe 
af Anne Cathrine Bomann udkom den 15. maj 2017 på Forlaget Brændpunkt

og er nu solgt til både Tyskland og Sverige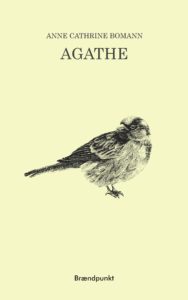 Agathe af Anne Cathrine Bomann har modtaget roser fra stort set alle, der har læst den lille og af udseende ubetydelige bog, fordi den uden at gøre væsen af sig selv, tager fat i livets helt store spørgsmål.
Anne Cathrine Bomann og hendes debutroman Agathe repræsenteres af agenturet Grand Agency, som netop har indgået aftale om udgivelse i både Tyskland og Sverige.
http://grandagency.se/authors/anne-cathrine-bomann/

REVIEWS
♥︎♥︎♥︎♥︎♥︎♥︎
Litteraturhuset / DK
★★★★★
Julie the Bookcat / DK
"Anne Cathrine Bomann writes with a solidness rarely seen, and this being her debut novel! She has caught my interest and I can only hope that Agathe will not be her last release."
Pictures and Pagesturners / DK
"If this book had been published by one of the major publishers I have no doubt it wouldn't have taken many years before it would have achieved the status of a classical on basis of its sparse and precise language, its everlasting relevance and the treatment of the greatest thoughts of philosophy and existentialism."
Book me up, Scotty! / DK
"Agathe is a small, quiet tale, but as small as it is, as big subjects are treated. … Agatheis filled to the brim with colourful pictures, poetic beauty, profound human understanding, celestial existential philosophy and a life-changing transformation that filled me with total excitement. I send the sparrow on to the world with my warmest recommendations."
Skriv for livet / DK
"This little novel (…) is fluent and poetic in its language. It is written with ease from the first page and has several glimpses of liberating, quiet humour in the midst of its serious themes. In a most incredible way, the reader is caught from first to last page."
Psykologernes fagmagasin P / DK
"A book that I would definitely recommend everyone to read. There is something "feel good" over it, something joyful and thoughtful. … The book has made a big impression on me."
Bogrummet.dk / DK
"Agathe is a novel about life and death, about alienation to others and one self, about loneliness and existential crisis. … In short, it's a pleasure to read such a well-written little novel. In just 111 pages it captures the reader from first to last word."
Kig in i bogens verden / DK
"It's a book that gives substance for reflexion, without being difficult to read. I am sure most readers will be able to nod in recognizing some of the feelings and thoughts that are heard of, both from the main character and the other characters in the book. I wasn't at all prepared for it but, I'm crazy about Agathe."
Bech's Books / DK
Læs mere på:
www.facebook/forlagetbraendpunkt
God læselyst
Forlaget Brændpunkt